Products
Level Sensors
Back-pressure type level switch
LT1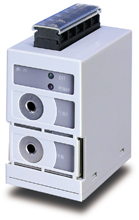 Detects high and low limit level of fluid using a single tube.
Not influenced by adhering materials.
The use of PFA tube enables measurement of corrosive liquids.
Built-in semi-conductor pressure sensor and orifice.
Easy to use only by using air purging to the tube of 20±1kPa

Download
Main features

Main specification

External dimensions

Models
Main features
Detects high and low limit level of fluid using a single tube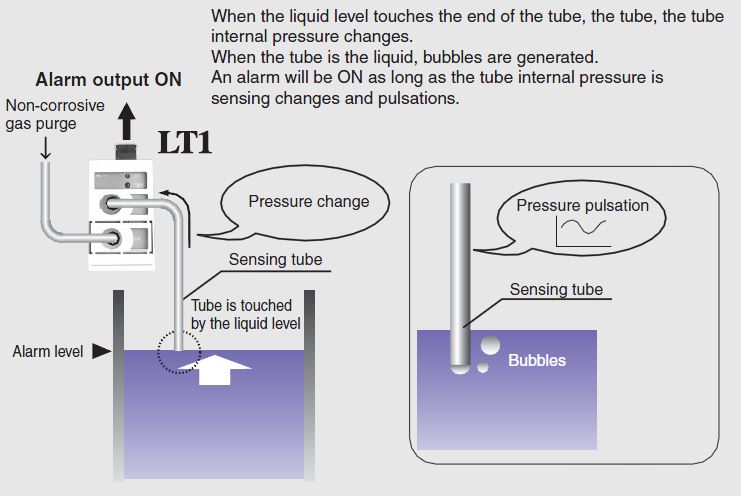 The level when the sensor tip touches the surface is output as an Alarm.
Use of PFA tube enables measuring corrosive chemical solutions.
Highly reliable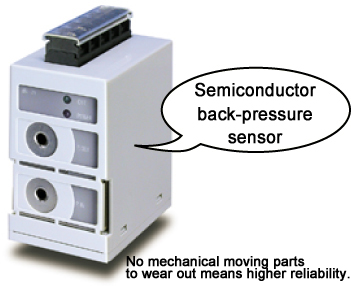 Uses semi-conductor pressure sensor (back pressure sensor) in the sensing part. Structure without mechanical parts ensures high reliability and repeatability.
No adjustment required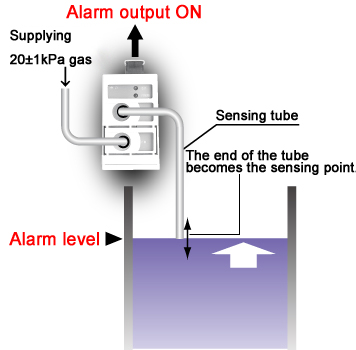 Arranging for a tube with the specified length is all required.
Built-in orifice. Just supply of 20±1kPa air gas, then the specified purge flow rate is obtained.
Main specification
Number of inputs: 1 point ※LE110 is supplied with an atmospheric pressure measurement input.
Input media: Non corrosive gas
Input pressure range: 0 to 49kPa
Input media pressure: 20 to 49kPa
Response time: 0.2 sec., (Hysteresis: within 3 seconds)
※ Standard purge output: Performance at 20kPa (at ambient temperature 20±2ºC)
Number of level output: 1 point
Level output type: Relay contact type, 1c contact
<General specifications>
Power supply voltage (Rating): 24Vdc
Allowable ambient temperature: 0 to 50°C
Weight: Approx.250g
Safety standards:UL UL61010-1
cUL CAN/CSA-22.2 NO.61010-1
CE Marking: Low Voltage Directive (LVD) EN61010-1
EMC Directive: EN61326-1
External dimensions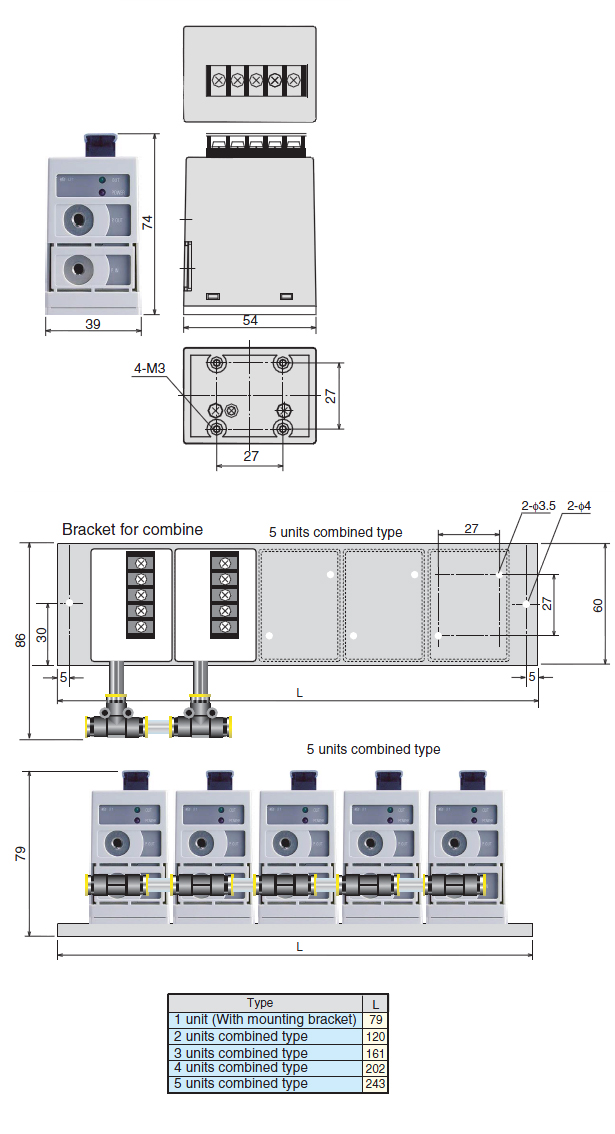 Models