Products
Communication Converters
PLC communication converter
COM-JE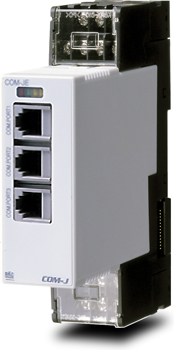 Converter for connecting FB series and RB series to Mitsubishi PLC.

Download
Main features

Main specification

External dimensions

Models
Main features
COM-JE
PLC communication converter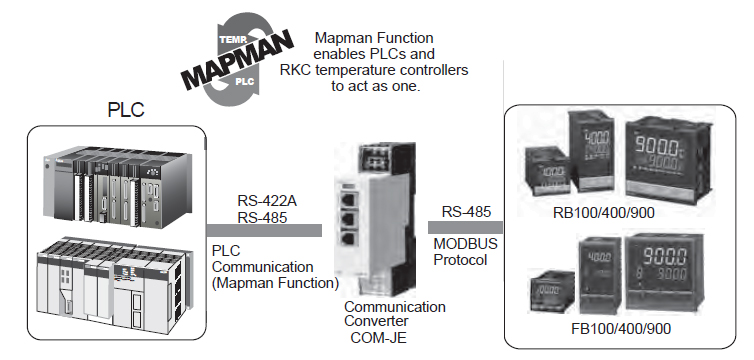 Programmingless connection to PLC.
COM-JE becomes a Master station and sets the data of temperature controllers into the registers of PLC.
Easy handling of data only by command operations of PLC registers.
Supported models: FB100 / FB400 / FB900/ RB100 / RB400 / RB500 /RB700 / RB900
Main specification
PLC communication
Interface: RS-422A / RS-485
Protocol: Dedicated protocol for Mitsubishi Electric MELSEC series, (A-compatible 1C frame (format 4))
ACPU common commands (WR/WW) (A series, FX2N, FX2NC series)
AnA/AnUCPU common commands (QR/QW) (AnA/QnA series, Q series)
– QnA-compatible 3C frame format 4
Commands (0401/1401) (QnA series, Q series)
Protocol dedicated for Omron SYSMAC series (C Mode command (RD/WD/RE/WE))
Communication speed: 9600 bps, 19200 bps, 38400 bps
Maximum connection: 4 COM-JE to a single communication port of PLC
Host communication
Interface: Conforming to RS-422A / RS-232C(RS-232C when COM PORT1 is used)
Protocol: RKC communication (ANSI), MODBUS-RTU
Communication speed: 9600 bps, 19200 bps, 38400 bps
Maximum connection: RS-422A (16), RS-232C (1)
Controller communication
Interface: RS-485
Protocol: MODBUS-RTU
Communication speed: 9600 bps, 19200 bps, 38400 bps
Maximum connection: 31
General Specification
Power supply voltage (Rating): 24V DC
Ambient temperature: -10 to 50°C
Weight: Approx.170g
Safety standards:
1) UL UL61010-1
2) cUL CAN/CSA-22.2 NO.61010-1
3) CE Marking: Low Voltage Directive (LVD) EN61010-1                                                                                                                   EMC Directive EN61326-1
4) RCM EN55011
External dimensions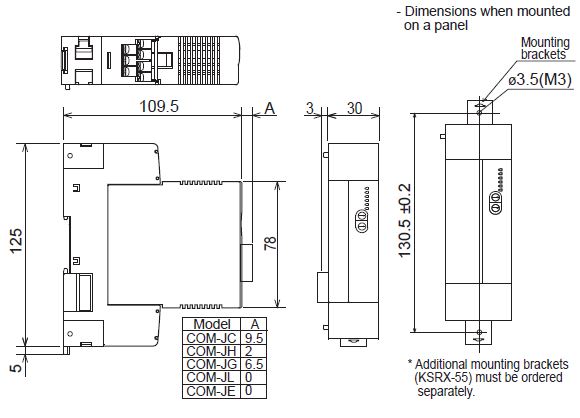 Models