Products
Digital Controllers
Digital Controllers (Process and Temperature Controllers)
GZ series(GZ400 / GZ900)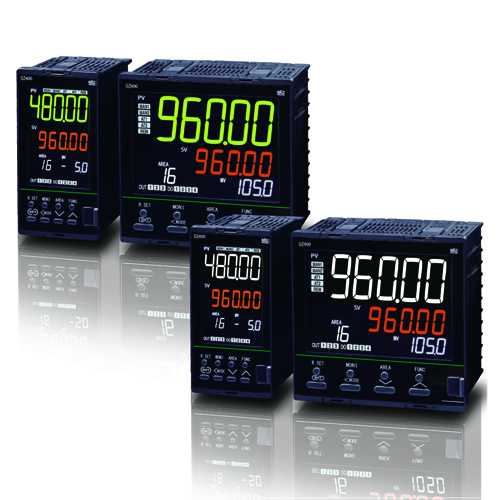 Universal Input
(Selectable from Thermocouple, RTD Pt100, Voltage, Current)
Measurement accuracy: ±0.1% of displayed value
Sampling time: 0.01 sec.
11-segment 5 digit LCD display
Front loader communication port
Dual input function
Plug-in construction

NEW
Temperature
Process
High speed
Main features

Main specification

External dimensions

Models
Main features
High Speed Sampling Time 10ms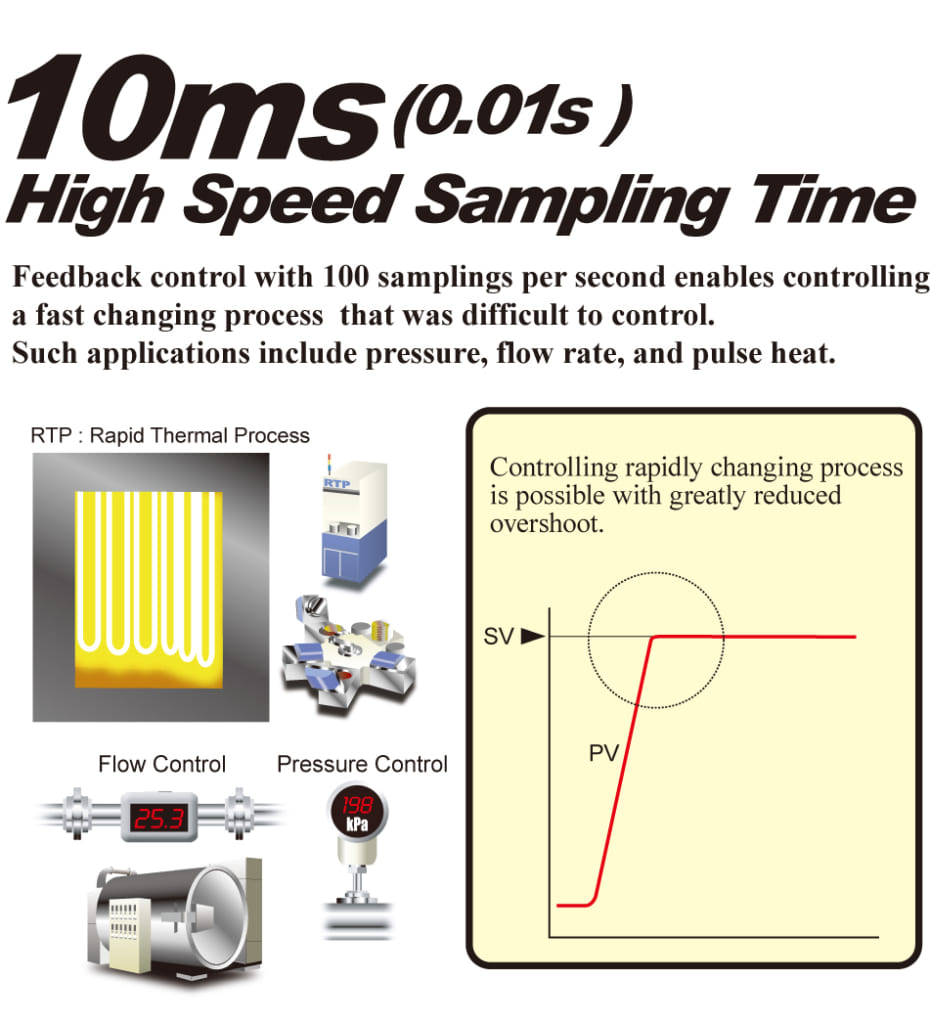 Feedback control with 100 samplings per second enables controlling a fast changing process that was difficult to control. Such applications include pressure, flow rate, and pulse heat.
Front loader communication port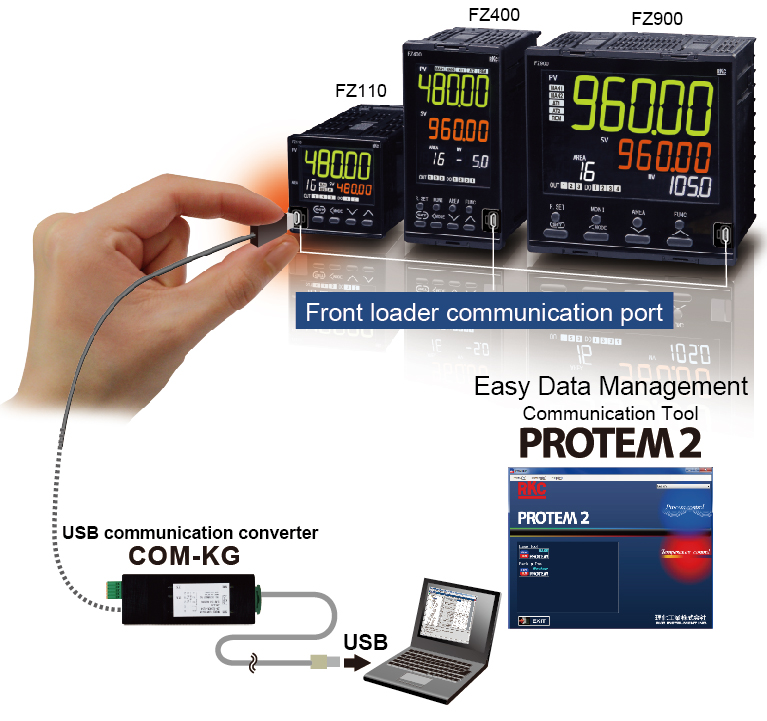 All models are equipped with a front loader communication port for improved maintainability Configuration data management software (PROTEM2) is available
Large high intensity LCD display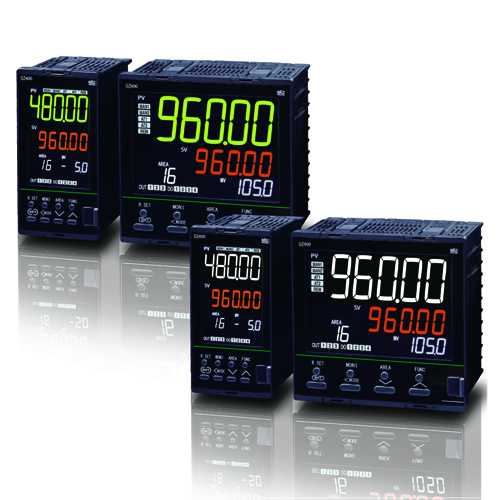 Large easy-to-read PV display on a compact front panel
2 inputs for various applications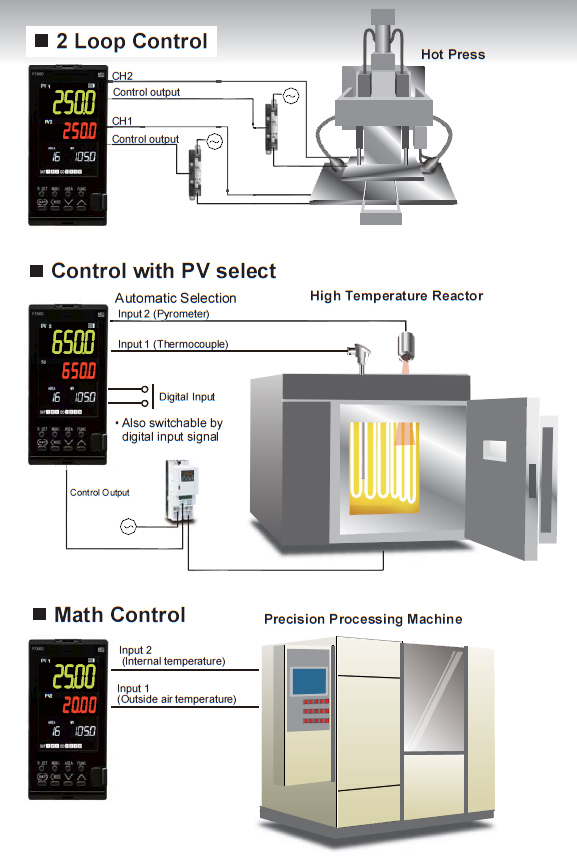 2CH (Dual loop) control
Dual loop control is available on a single controller.

PV select function
Input 1 and Input 2 are switched over at a preset level.

Differential temperature control
This is a function to control to maintain the difference between PV1 and PV2 is kept constant.
Further advanced control performance and function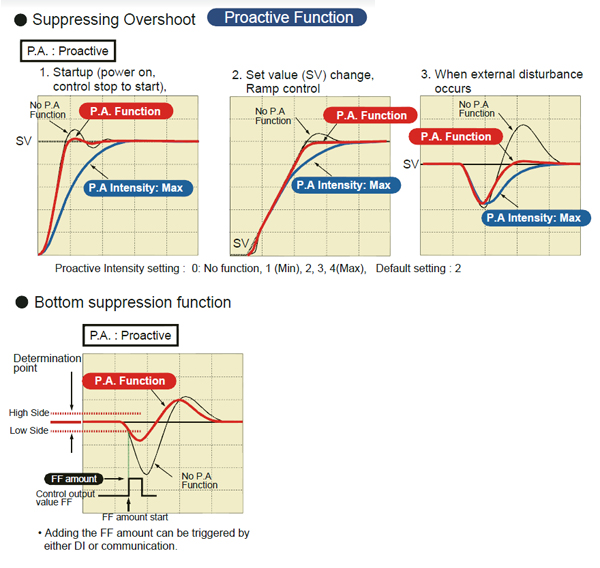 Proactive function is supplied to suppress overshoot and bottom (lowering amount)
Versatile customizable information display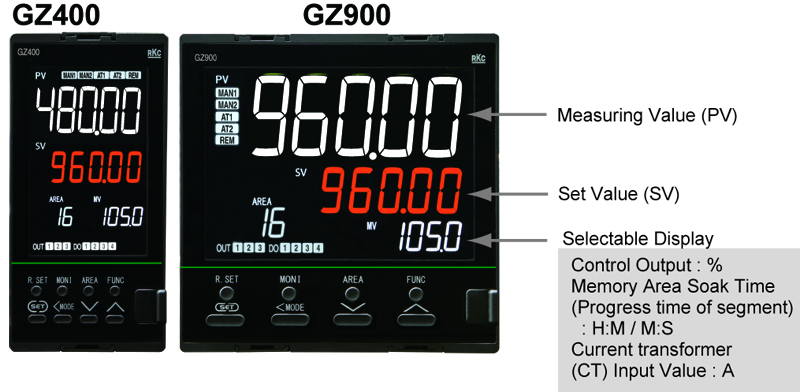 Three-stage display shows abundant information.
Parameter select function enables displaying necessary parameters only.
Main specification
Number of Inputs : Max.2 points
Input type (Universal input) : ※See the Input Range Code for the input range.
1)Thermocouple : K, J, T, S, R, E, B, N, W5Re/W26Re, U, L, PLII
2)RTD: Pt100 and JPt100 (3-wire system)
3)DC voltage/current: 0 to 10mV, 0 to 100mV, 0 to 20mA, 4 to 20mA
4)DC voltage: 0 to 1V, 0 to 5V, 1 to 5V, 0 to 10V, -5 to +5V,-10 to +10V
Sampling time: 0.01 sec.
※0.1 second when the controller is used for Dual loop control or Control loop combination function.
Measurement accuracy : ±(0.1% of displayed value+1 digit) ※Depends on the input and the range.
Output 1 (OUT1) ※Control, Event, HBA (Heater Break Alarm), LBA (Control loop break alarm) or analog retransmission are assigned.
1)Relay contact output (a): 1c contact ※Highly durable relay
2)Voltage pulse output for SSR driving: 0/12V dc
3)Current output : 0 to 20mA, 4 to 20mA dc
4)Continuous voltage output: 0 to 5V, 1 to 5V, 0 to 10V dc
5)Transistor output: Allowable load current: 100 mA
<Specification of Options>
Output 2 (OUT2) ※Control, Event, HBA (Heater Break Alarm), LBA (Control loop break alarm) or analog retransmission can be assigned
1)Relay contact output (b): 1a contact ※Highly durable relay
2)Voltage pulse output for SSR driving: 0/12V dc
3)Current output : 0 to 20mA, 4 to 20mA dc
4)Continuous voltage output: 0 to 5V, 1 to 5V, 0 to 10V dc
5)Transistor output: Allowable load current: 100 mA
Output 3 (OUT3) ※Universal output
1) Voltage pulse output for SSR driving: 0/14 dc
2) Current output: 0 to 20mA, 4 to 20mA dc
Digital output (DO: max.4 points)
Relay contact output: 1a contact
Event function (max.4 points)
Remote setpoint input
1) DC voltage input: 0 to 10mV, 0 to 100mV, 0 to 20mA, 4 to 20mA
2) DC voltage input: 0 to 1V, 0 to 5V, 1 to 5V, 0 to 10V, -5 to +5V, -10 to +10V
Event inputs (Max.6 points)
Function of event inputs: RUN/STOP switching, AUTO/MAN switching, selecting Input 2, Interlock release, Peak/Bottom value release,
Peak hold/Bottom hold release, Set Lock/Unlock, Direct/Reverse action, Memory area switching (with/without SET)
Analog retransmission output (Max.1 point)
1) DC current input: 0 to 20mA, 4 to 20mA
2) DC voltage input: 0 to 5V, 1 to 5V, 0 to 10V
Communication: RS-422A / RS-485
<General Specification>
Power supply voltage (Rating): 100 to 240V ac/24Vac/24Vdc
Ambient temperature: -10 to +55°C
Weight:
GZ400:  Approx.221g
GZ900:  Approx.291g
UL:  UL61010-1
cUL:  CAN/CSA-22.2 NO.61010-1
CE Marking:
Low Voltage Directive (LVD)   EN61010-1
EMC Directive   EN61326-1
RCM:  EN55011
External dimensions
Unit : mm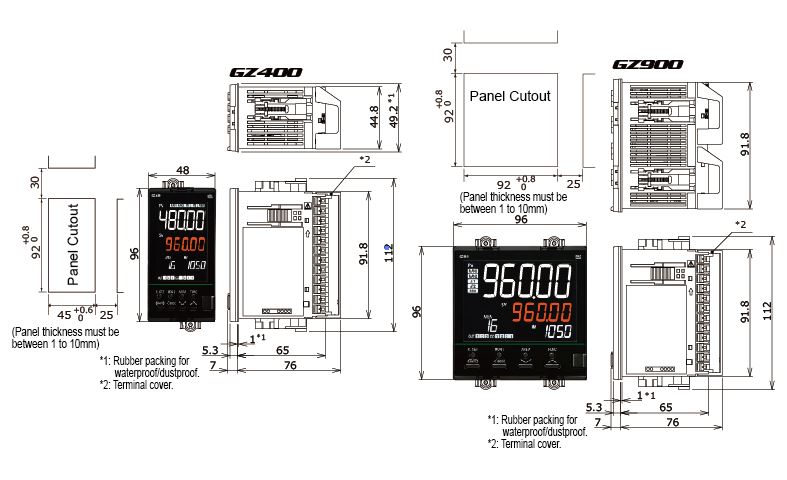 Models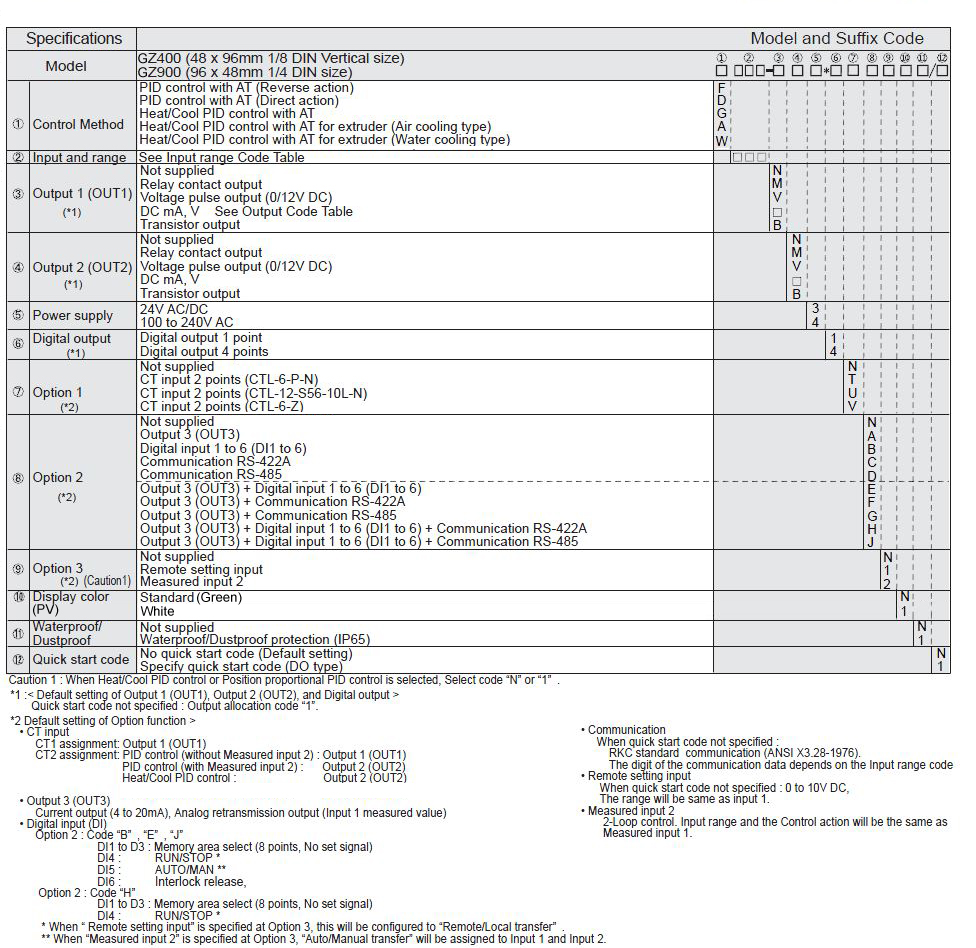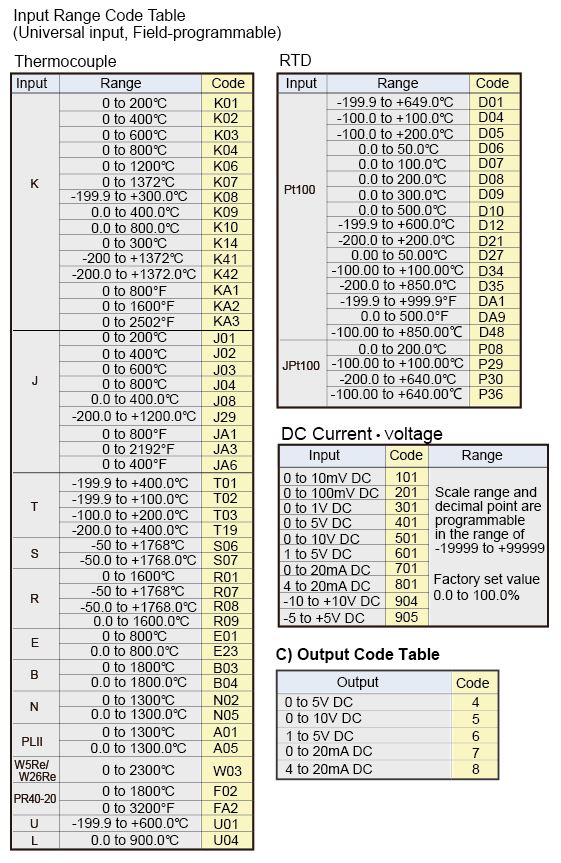 Accessories (Sold separately)
CT :Current transformer for heater break alarm

Terminal Cover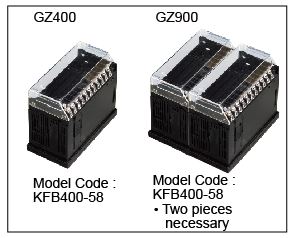 Front Cover