Products
Power Controllers
Single Phase Power Controllers
SSNP / SSNZ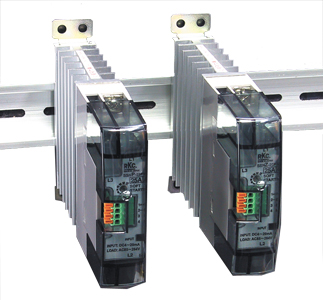 DIN-rail mounting type thin profile power controllers
A maximum of 8 units can be closely and horizontally mounted.
Maximum load capacity: 15A, 25A ac
Supply voltage: 100 to 240V ac
Control method: Phase angle control (SSNP), Zero-cross control (SSNZ)
UL certified

Download
Main features

Main specification

External dimensions

Models
Main features
Thin profile design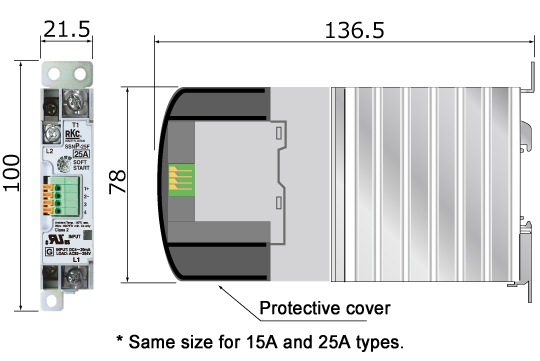 Thin profile (21.5mm wide) for both 15A and 25A.
Capable of close mounting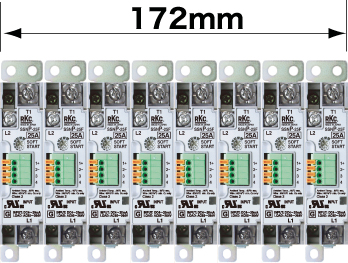 A maximum 8 units can be closely mounted and the width is 172mm.
※When the units are mounted closely, the ambient temperature characteristics change.
Soft-start and soft-down functions are supplied as standard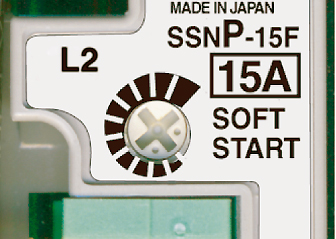 Output slowly changes against a sudden change of input signal, suppressing the inrush current.
Available for manual control
Manual control is available by using an external variable resistor.
Main specification
Control method: Phase control (SSNP series), Zero-cross control (SSNZ series)
Maximum load capacity: 15A, 25A ac
Applicable load: Linear load (R: resistance)
Input signal: 4 to 20mA dc
Minimum load current: 100mA ac
Note: The conduction angle gets smaller in case of minute current load.
Before using this device in an actual application, it is recommended to conduct a test operation.
Leakage current at OFF: 9mA ac (RMS) or less (Load voltage: 200Vrms, 60Hz)
Response time: 1 cycle or less  (When soft-start is not used)
※Soft-start is disabled when the front POT is rotated fully counterclockwise.
Power supply frequency: 50/60Hz (automatically selected)
Standard functions: Soft-start/Soft-down function: approx.0.5 to 13 seconds (SSNP series), approx.0.5 to 40 seconds (SSNZ series)
External variable resistor (for manual control) ※Variable resistor is optional.
<General Specification>
Ambient temperature: -20 to +60°C
Power supply voltage (Rating): 100 to 240V ac
Weight: Approx. 260g
Safety standards: UL, cUL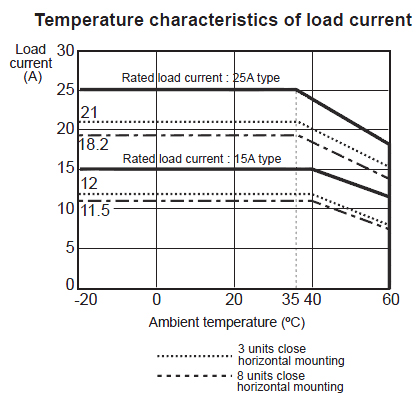 External dimensions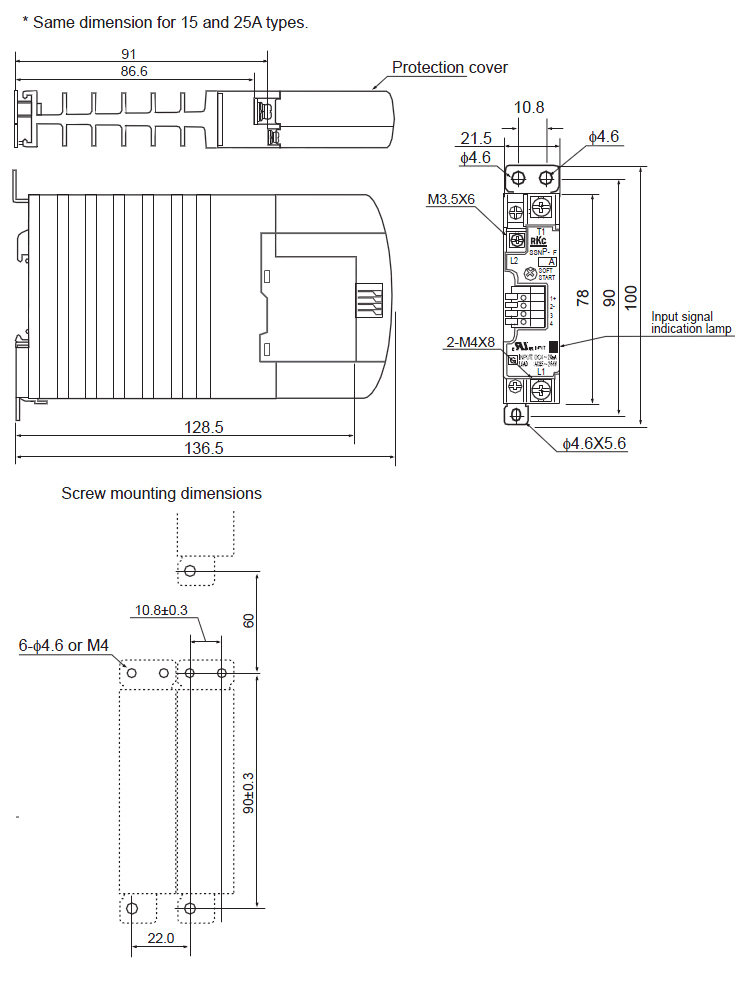 Models