Products
Digital Controllers
Digital controllers (Temperature controllers)
REX-Century series(REX-C100 / REX-C400 / REX-C410 / REX-C700 / REX-C900)

Measurement accuracy: ±0.5% of displayed value
Sampling time: 0.5 sec.
Longtime seller temperature controllers
Plug-in construction

Download
Main features

Main specification

External dimensions

Models
Main features
Longtime seller temperature controllers

Longtime seller of digital temperature controllers with easy-to-operate PID Autotuning.
Avoids setting errors
This model uses SET key (Registration key) method which avoids setting errors.
Multifunctional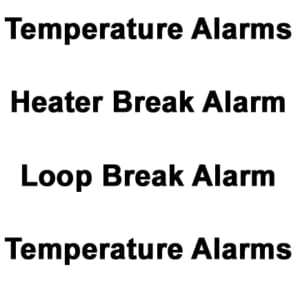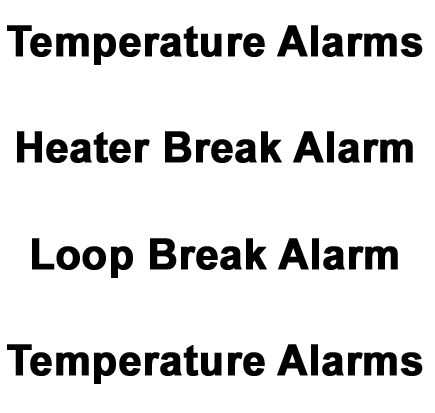 PID action is selectable from heat, cool, or heat/cool control.
Main specification
Number of Inputs :1 point
Input type : ※See the Input Range Code for the input range.
Thermocouple: K, J, T, S, R, E, B, N, W5Re/W26Re, PLII
RTD: Pt100, JPt100
Sampling time:0.5 sec.
Measurement accuracy:±(0.5% of displayed value+1 digit) ※Depends on the input and the range.
Outputs(OUT1)
1) Relay contact output : Form C (1c) contact ※1a contact for REX-C100
2) Voltage pulse output for SSR driving: 0/12V dc
3) DC Current output : 4 to 20mA dc
4) Triac trigger output: Trigger method – Zero cross method
<Specification for Optional Functions>
Output (OUT2) ※Cooling output for heat/cool control
1) Relay contact output : 1a contact
2) Voltage pulse output for SSR driving: 0/12V dc
3) DC Current output : 0 to 20mA dc
Alarm output (max.2 points): Temperature alarm, Heater break alarm, and Control loop break alarm
CT input for Heater break alarm (max. 1 point)
<General Specification>
Power supply voltage (Rating): 100 to 240Vac/24Vac/24Vdc
Ambient temperature: 0 to 50°C
Weight:
REX-C100 Approx.170g
REX-C400 Approx. 260g
REX-C410 Approx. 260g
REX-C700 Approx. 250g
REX-C900 Approx. 340g
Safety standards: UL UL61010-1
cUL CAN/CSA-22.2 NO.61010-1
CE Marking:  Low Voltage Directive (LVD) EN61010-1
EMC Directive EN61326-1
External dimensions
(単位:mm)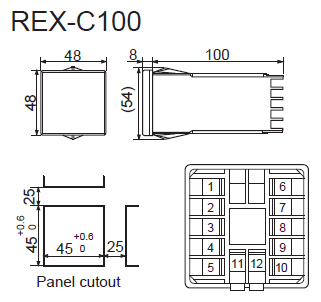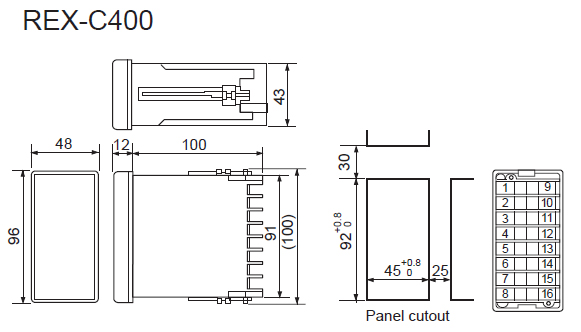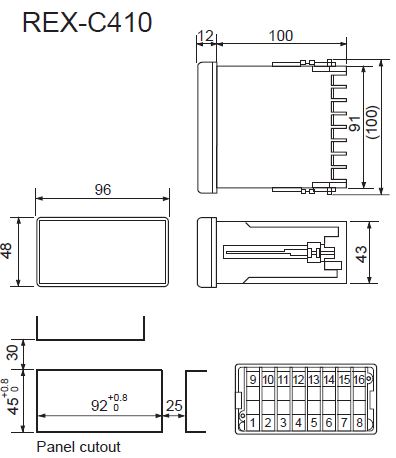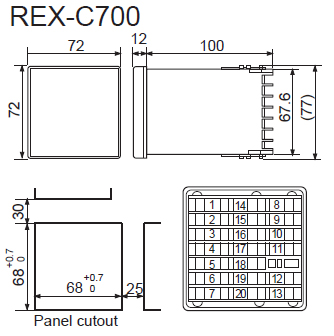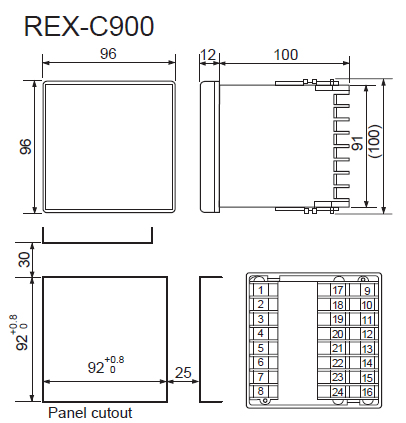 Models