Products
Module Type Controllers
Modular Controller (Process/Temperature Controller)
SR Mini HG SYSTEM(H-PCP-J)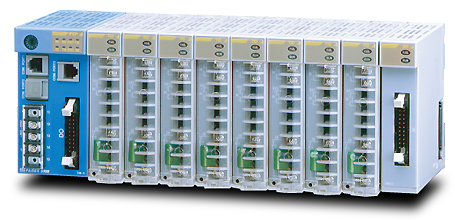 Supplied with MAPMAN function which enables programmingless connection to a PLC.
Measurement accuracy: ±0.3% of span (standard model), ±0.1% of span (accurate model)
Sampling time: 0.5 sec. (standard model), 0.1 sec (accurate model)
A wide selection of modules such as digital input/output, analog input/output, CT inputs, and temperature inputs.

Temperature
Process
Multiloop
Download
Main features

Main specification

External dimensions

Models
Main features
Programmingless connection to PLCs from various manufacturers

Programmingless connection to PLCs from various manufacturers is available.
※Available when H-PCP-J is connected.
※ Supported PLCs:
  Mitsubishi Electric MELSEC series
  Omron SYSMAC series
  Sharp JW series

Communication port to which a display unit can be connected can also be used simultaneously.
Output ratio function is available (on digital output module H-DO-G-D)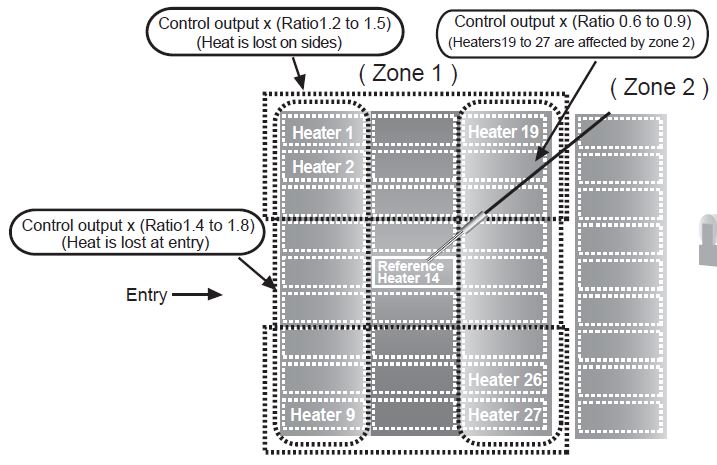 Manipulated output value of the master channel (H-TIO-[]) is multiplied by the output ratio (rate) of the slave channel (H-DO-G) and is provided as a distribution manipulated output.
Control of motor speed (Speed control module H-SIO-A)

This module receives pulse input from a rotary encoder for driving motor speed
Main specification
Refer to "SR Mini HG SYSTEM" for the configuration.
H-PCP-J module
Basic function
Data management function: Operation data, System data
Unit diagnosis function: Configuration check of function modules
Digital output
Number of outputs: 8 points
Output type: Temperature alarms 1 and 2 (ALM1, 2), Heater break alarm, Burnout alarm
Analog inputs 1 and 2 alarm (AI), Temperature inputs 1 and 2 (TI) alarm,
Loop break alarm, Temperature rise completion, FAIL. (configurable)
Output method: Open collector output (sink type)
Communication
Interface: RS-422A / RS-485 / RS-232C
Protocol:
1) ANSI X3.28 (1976)2.5 B1
2) MODBUS
3) PLC commands (MAPMAN)
※ PLC commands are supported only on COM.port 1 and 2. Protocol is configurable among 1), 2) and 3).
<General Specification>
Power supply voltage (Rating): 100 to 120Vac / 200 to 240Vac/ 24Vdc
Allowable ambient temperature: 0 to 50°C
Weight: approx.300g
Safety standard:
UL  UL61010-1
cUL CAN/CSA-22.2 NO.61010-1
CE Marking: Low Voltage Directive (LVD) EN61010-1   EMC Directive EN61326-1
RCM EN55011
H-DO-G Module
Number of output: 16 points
Output method: Open collector output (sink type)
Functions: Master ch: Control output from (TIO module)
Output limit function
Output ratio function
Control output cycle time: 1 to 100 sec.
H-SIO-A module
Input
Number of input: 1 point
Input type: 1) Voltage pulse input: High level voltage: 7 to 15Vdc, Low level voltage: 0 to 2Vdc
2) Open collector output
Sensor power supply: 12Vdc ±10%, 70mA or less
Control method: 1) Open loop control
2) Closed loop control (Brilliant PID control with Autotuning) ※PI control available
Control computation cycle: 0.1 sec.
Control output: 1) DC voltage output: 0 to 1V, 0 to 5V, 0 to 10V,1 to 5V dc
2) DC current output: 0 to 20mA, 4 to 20mA dc
Alarm function (2 points): Process alarm, Deviation alarm, SV alarm
Alarm output (1 point): Relay contact output, 1a contact
External contact input (2 points) : Control ON/OFF, RUN/STOP
Allowable ambient temperature: 0 to 50°C
Weight: approx.120g
Safety standards:
UL UL61010-1
cUL CAN/CSA-22.2 NO.61010-1
CE Marking: Low Voltage Directive (LVD)  EN61010-1   EMC Directive EN61326-1
External dimensions
H-PCP-J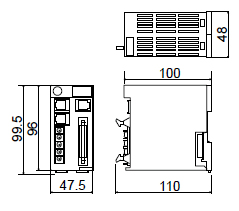 H-DO-G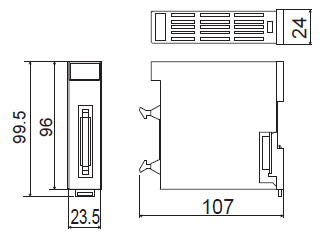 H-SIO-A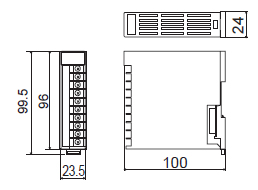 Models
H-PCP-J