Products
Communication Converters
Ethernet Communication Converter
COM-ME series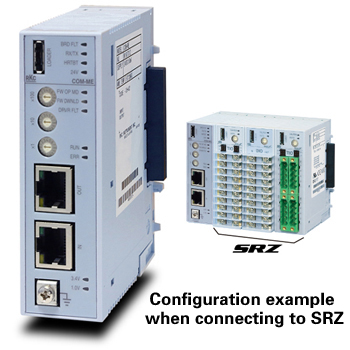 Coming soon
COM-ME-3
Converter for connecting SRZ series to EtherCAT.

Main features

Main specification

External dimensions

Models
Main features
COM-ME-3
EtherCAT Communication Converter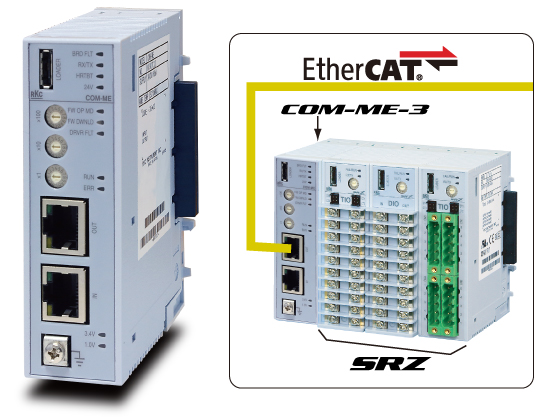 Converter for connecting SRZ series to EtherCAT.
This model can be connected to the SRZ modular controller via EtherCAT (a maximum of 16 Z-TIO-A modules: 64 channels)
Supported models: SRZ (Z-TIO-A / Z-TIO-B, Z-DIO, Z-CT)

For the details of the SRZ series, please click here.
Main specification
COM-ME-3(EtherCAT)
EtherCAT communication
Device type : No profile
Physical layer: 100BASE-TX
User layer: EtherCAT
Correspondence protocol: CAN application protocol over EtherCAT (CoE)
Communication object: SDO, PDO
Connector type: RJ-45 (2 ports)
PDO data length : Max. 1024byte                                                                                                                                                                Both RxPDO (Output) and TxPDO (Input)
Synchronous mode : Free Run
Loader communication
Communication speed: 38400 bps
Maximum connections: 1 unit
Connection with a loader communication cable for our USB converter COM-K2
(sold separately).
Host communication
Interface: RS-485
Communication speed: 9600 bps, 19200 bps, 38400 bps, 57600 bps
Protocol:
1) ANSI X3.28-1976 subcategories 2.5 and B1
2) MODBUS-RTU
Maximum connections: 31 units (Including Z-TIO, Z-DIO, Z-CT unit)
General Specification
Power supply voltage : 24V DC
Allowable ambient temperature: -10 to +55°C
Weight : Approx. 150 g
Safety standards:
1) UL UL61010-1
2) cUL CAN/CSA-22.2 NO.61010-1
3) CE Marking: Low Voltage Directive (LVD) EN61010-1                                                                                                                   EMC Directive EN61326-1
4) RCM EN55011
External dimensions
COM-ME                                                               (Unit:mm)
* This drawing is COM-ME-3. The COM-ME series are same dimensions.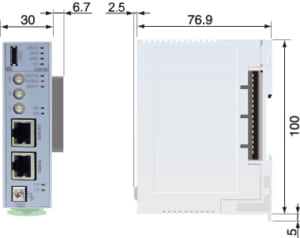 Models