Products
Temperature Sensors
Film Type Temperature Sensors
ST-50 series(Type K Thermocouple)
Thin Film Type K Thermocouple Temperature Sensor avialable in thickness of 0.34mm and 0.13mm.
Ideal for measuring temperature of small object by pasting on its surface.
Ideal for inserting between two touching surfaces with Exposed-Tip Type.
Polyimide(PI)Insulation Type for applications where electrical insulation is needed.
Rapid response is best suited for temperature profiling.
Download
Main features

Main specification

External dimensions

Models
Main features
Film Type Temperature Sensors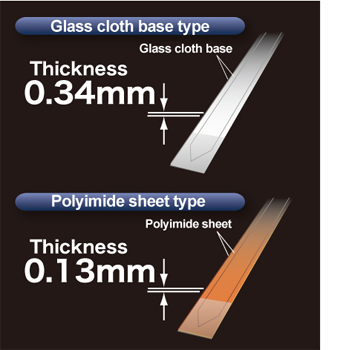 0.34mm Fiberglass Non-Woven Film or 0.13mm Polyimide(PI)Film are avaible. Ideal for measuring temperature of small objects.
This is a type K thermocouple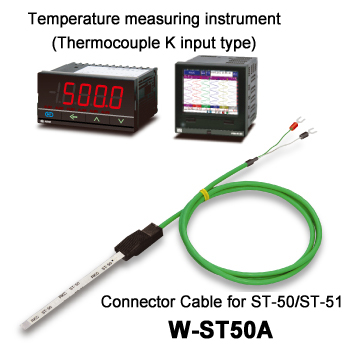 With the dedicated cable with a connector (W-ST-50A), the sensor can be connected to the input terminal of the instrument configured for thermocouple input type K.
Wide selections of cable end types are offered. For example, Y-shaped crimp terminal or TC connector.
Excellent response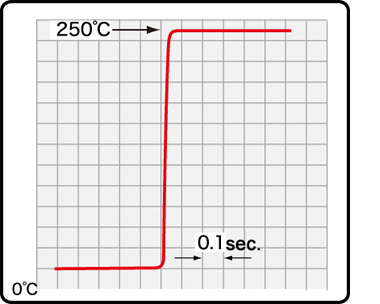 Since thermal capacity of the sensor itself is very small, temperature can be quickly measured.
This makes the sensor suitable for collecting temperature profiles.
< ST-50B / ST-51B / ST-51SB characteristic curve>
Just stick it on the object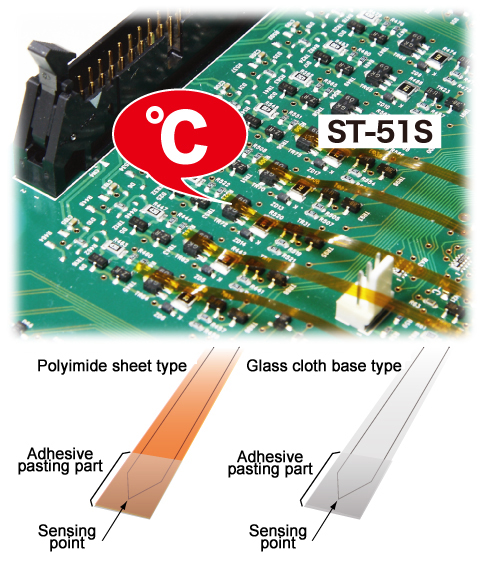 This sensor can be sticked on the narrow space or on the small object for easy temperature measurement.
・Nonwoven glass fabric type (standard)
・Polyimide resin type (for use in clean room)
Easy to measure temperature with a cable clamp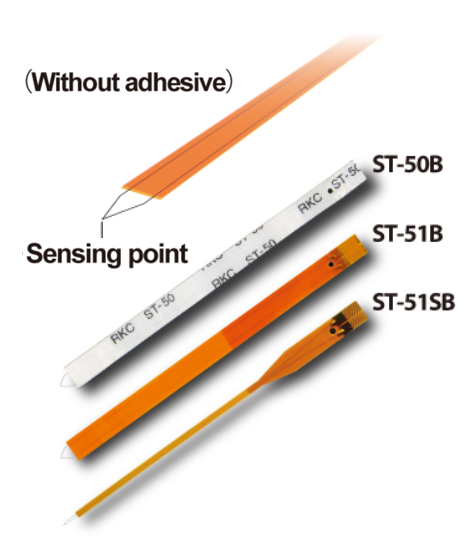 Bare end type sensors (ST-50B / ST-51B / ST-51SB) are offered for temperature measurement of tiny objects.
We can offer the following sensors with extended length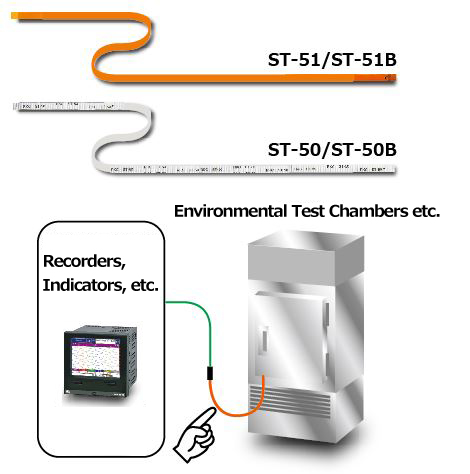 ST-51/ST-51B (Polyimide type) and ST-50/ST-50B (Glass fabric type) can be manufactured in a length of 500mm.
*ST-50/ST-50B are also available in a 300mm length.
Insulated Type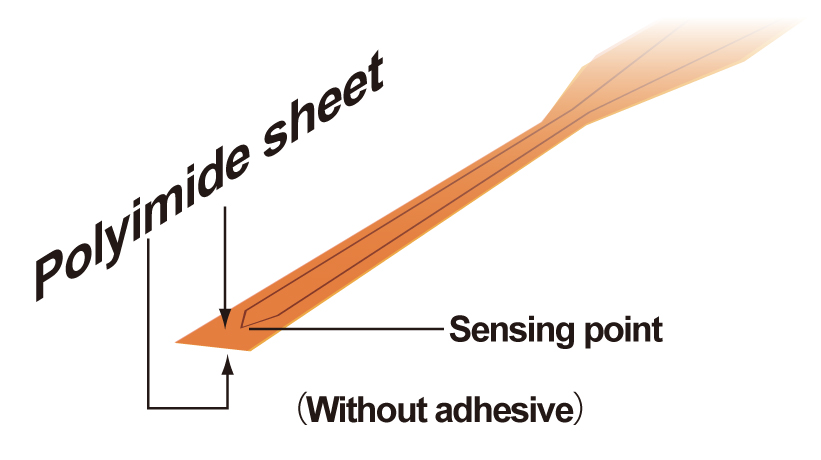 The insulated type (ST-51SC) probe prevents the thermocouple wires from contacting the target directly and measures temperature correctly.
*Heat resistant tapes or similar products are recommended while sticking the sensor to the target.
Measures max.300°C temperature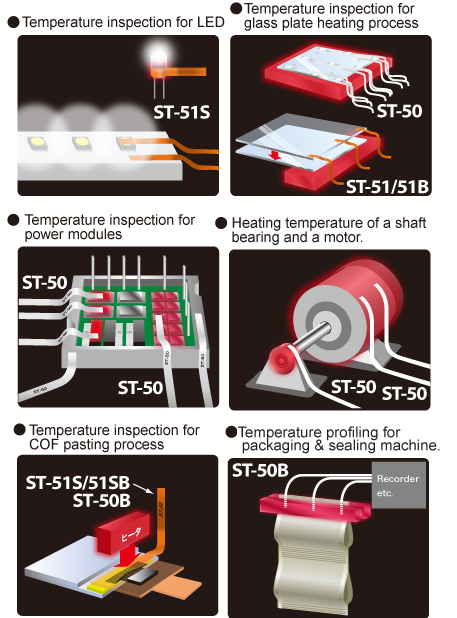 Use of silicon adhesive enables adhesion on almost any objects except some hard-to-bond articles.
No Siloxane is generated.

Up to 150°C:
Capable of repeated use by sticking/removing the sensor.
Up to 200°C:
Capable of repeated use on condition that the temperature is not lowered below 150°C.
Up to 250°C:
Capable of repeated use on condition that the temperature is not lowered below 200°C.
Above 250°C:
Readhesion is not possible.

 

※The number of repeated use depends on the operating environment
Main specification
Sensor
Type of sensor: Type K thermocouple element, JIS-1602 class 2
Diameter of element:
ST-50 / ST-50B(Length: 100mm type):50μm or 100μm, (Length: 300/500mm types):100μm
ST-51 / ST-51B(Length: 100mm type):50μm, (Length: 500mm type):100μm
ST-51S/ ST-51SB / ST-51SC:50μm
ST-50 / ST-50B : Nonwoven glass fabric (Glass fiber) tape
ST-51 / ST-51B / ST-51S / ST-51SB / ST-51SC : Polyamide tape
Material of adhesive part: Silicon adhesive
Operating temperature range:
ST-50 / ST-50B / ST-51 / ST-51B / ST-51SB:0 to 300°C
ST-51S / ST-51SC:-40 to +300°C
Insulation resistance(ST-51SC) : More than 10MΩ at 500V DC
Dielectric voltage(ST-51SC) : 500V AC for one minute

Connector Cable
Connector material: PPS resin Connector Max. temperature: 230°C
Cable: ø3.3 Extended cable, Standard 1m
Cable material: Silicon rubber coated (Green) Cable Max. temperature: 180°C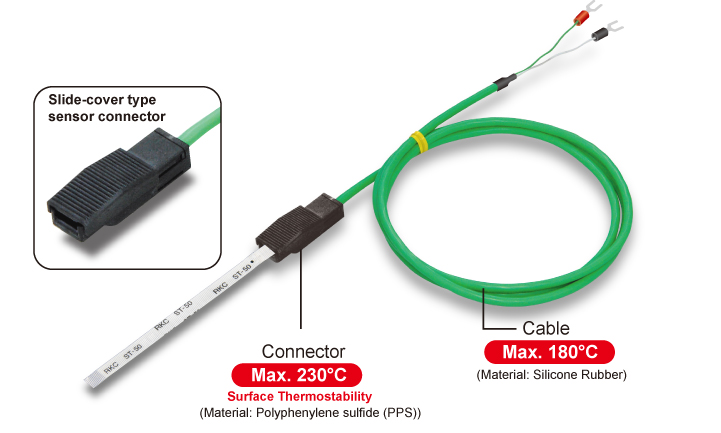 External dimensions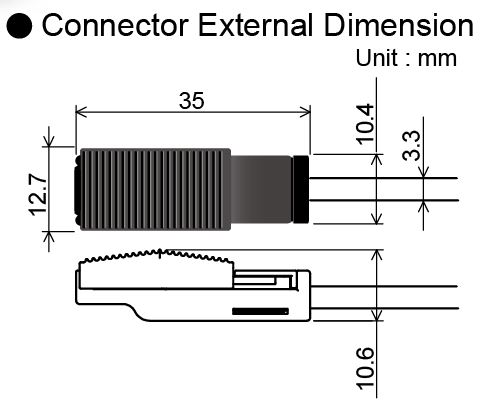 Models