Products
Digital Controllers
Digital controllers (Temperature controllers)
SA100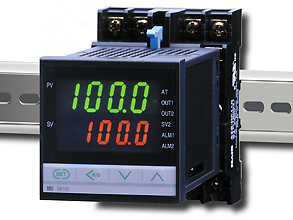 Measurement accuracy: ±0.3% of displayed value
Sampling time: 0.5 sec.
DIN rail mounting type (Also installable on a panel)
Plug-in construction

Download
Main features

Main specification

External dimensions

Models
Main features
DIN rail mounting type temperature controller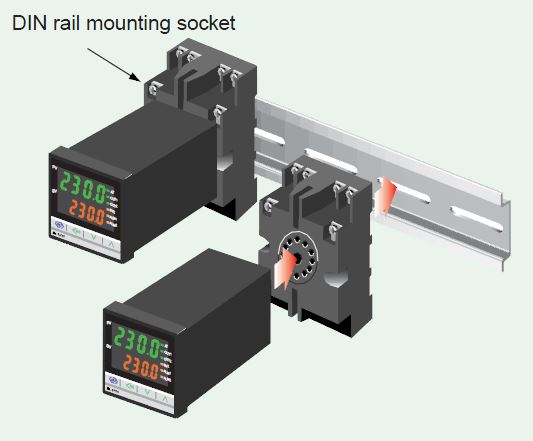 Installable on the DIN rail inside the control cabinet. Removable terminal socket for easy maintenance.
Control state discriminating type self-tuning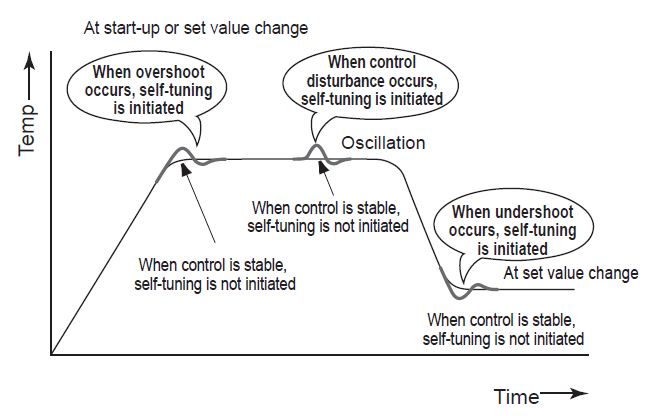 PID parameters are automatically tuned when control is determined to be disturbed
Autotuning function is also available
Two outputs can be assigned to control output, alarm output, or analog retransmission output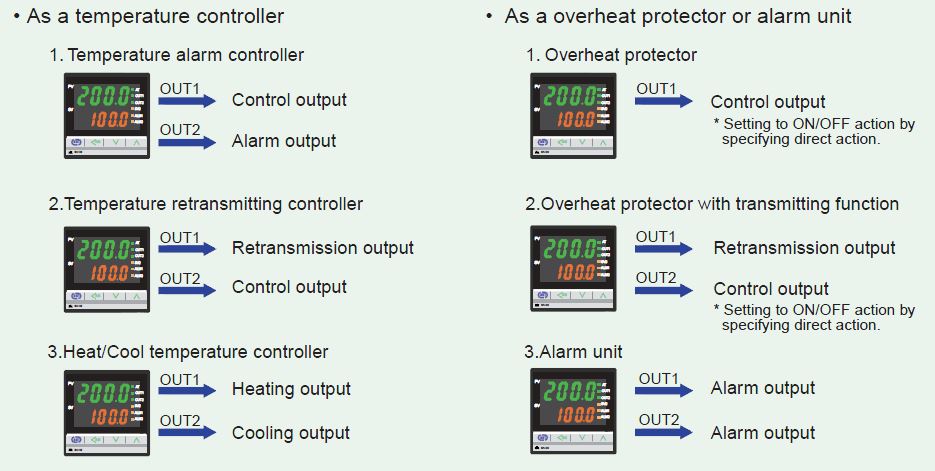 This instrument can be used as a temperature controller, an alarm, or an overtemperature protection device depending on the output assignment.
Main specification
Number of Inputs :1 point
Input type : ※See the Input Range Code for the input range.
1)Thermocouple : K, J, T, S, R, E, B, N, W5Re/W26Re, U, L, PLII
2)RTD: Pt100 or JPt100
3)DC voltage: 0 to 5V dc, 1 to 5V dc
4)DC current: 0 to 20mA dc, 4 to 20mA dc ※ A 250Ω external resistor is required.
Sampling time: 0.5 sec.
Measurement accuracy:±(0.3% of displayed value+1 digit) ※Depends on the input and the range.
Output (OUT1) ※To be assigned from a control output, an alarm output, or an analog retransmission output.
1) Relay contact output : 1a contact
2) Voltage pulse output for SSR driving: 0/12V dc
3) DC Current output : 0 to 20mA, 4 to 20mA dc
<Specification for Optional Functions>
Output2(OUT2)※To be assigned from a control output or an alarm output.
1) Relay contact output : 1a contact
2) Voltage pulse output for SSR driving: 0/12V dc
Alarm outputs (max.2 points): Temperature alarm or Control loop break alarm
External contact inputs (max.2 points): RUN/STOP switching or SV1/SV2 switching
Communication function: Communication method RS-485
<General Specification>
Power supply voltage (Rating): 100 to 240V ac/24Vac/24Vdc
Ambient temperature: 0 to 50°C
weight: Approx.120g (excluding a socket)
Safety standards: UL UL61010-1
cUL CAN/CSA-22.2 NO.61010-1
CE Marking: Low Voltage Directive (LVD) EN61010-1
EMC Directive EN61326-1
RCM EN55011
External dimensions