Products
Level Sensors
Back-pressure type level meter
LE100 / LE110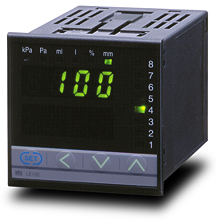 Level measurement and 8 level outputs are possible using one tube.
Not influenced by adhering materials.
Available with gravity correction function which eliminates correction by actual fluid and EMPTY/SPAN adjustment function which is implemented through one-touch operation.
This instrument can be also used as a fluid volume meter and a pressure meter.

Download
Main features

Main specification

External dimensions

Models
Main features
Level measurement using one tube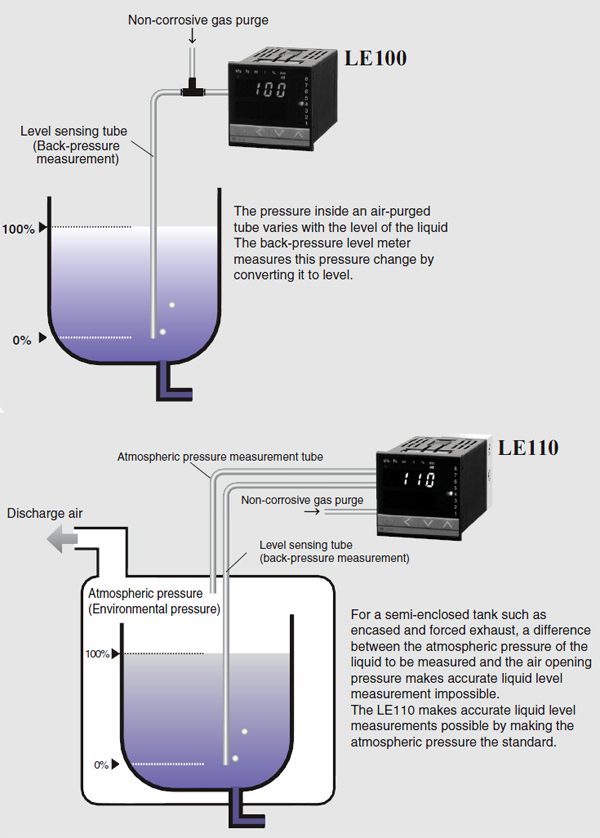 Inactive gas is supplied to the tube installed in the tank and level is measured using the back-pressure inside the tube that is generated according to the fluid level.
LE110 is a back-pressure type level meter based on LE100 with additional differential pressure (gauge pressure and atmospheric pressure) function. This instrument can be used in a tank where the pressure inside the tank changes.
The use of PFA tube enables measurement of corrosive chemicals.
Easy initial setting (Empty/Span adjustment)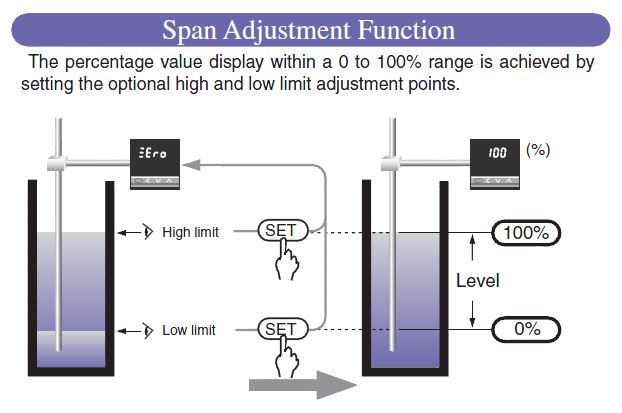 The range set by the high and the low limits is displayed as 0-100%.
Can be used as a liquid volume and a pressure meter

The linearizer function enables level measurement of a vessel with a complicated shape.
This instrument can be also used as a pressure sensor with high repeatability (±0.3% of span).
Main specification
Number of input: 1
* LE110 is supplied with atmospheric pressure measurement input.
Input medium: Non-corrosive gas
Input pressure range:
LE100: 0 to 9.807 kPa
LE110 (pressure supply range): 10 to 30kPa
Guaranteed withstanding pressure range:
Purge pressure: 100kPa
Level measurement pressure: 10kPa
Sampling cycle: 0.2 second
Number of level setting: 6 points, 8 points
Repeatability: ±0.3% of span ±1 digit
Non-linearity: ±0.5% of span ±1 digit
Additional function:
Specific gravity compensation, Empty adjustment, Span adjustment, volume compensation, automatic specific gravity compensation
Number of level outputs: 1 to 6 points (1 to 8 points)
Output points can be set by setting the level of the actual liquid.
Level output action: High limit, low limit, deviation high limit, deviation low limit
* Available with deviation setting, differential gap, output timer, wait function, and interlock function.
Level output type: Open collector output, 24Vdc, 60mA
<Optional specification>
Contact input:
Number of input: 1 point (Empty adjustment, count of specific gravity compensation)
Input method: Dry contact input
Communication: RS-485 interface
Monitor output: 0 to 2.5Vdc span (output of measured value)
* Output scaling: Available with high/low limits
<General specifications>
Supply voltage (rating): 24Vdc
Allowable ambient temperature: 0 to 50°C
Weight: LE100: approx.150g, LE110: approx.170g
Safety standards:UL UL61010-1
cUL CAN/CSA-22.2 No.61010-1
CE Marking: Low voltage directives (LVD) : EN61010-1
EMC directive: EN61326-1
RCM:EN55011
External dimensions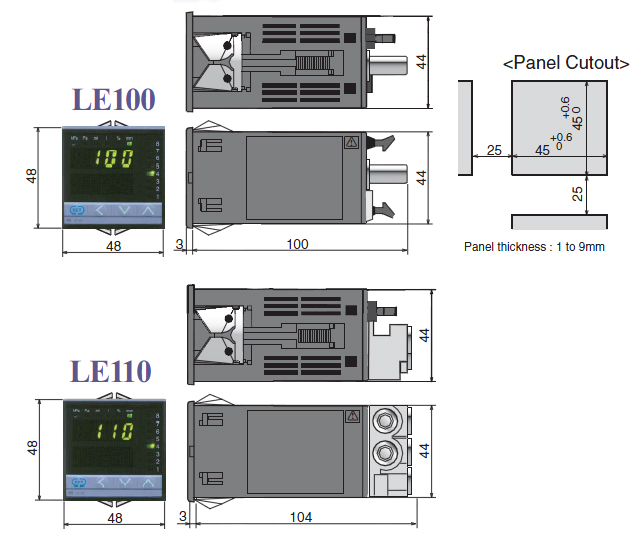 Models