Products
Radiation Thermometers
Handheld Infrared Thermometer
LTM-100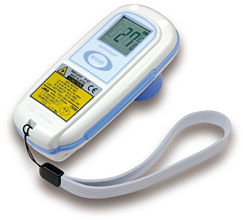 Easy-to-use handheld infrared thermometer
Being washable with water to keep the thermometer clean,this thermometer is suitable for food processing applications.
Aiming laser mark enables easy check of measurement points.

Download
Main features

Main specification

External dimensions

Models
Main features
Washable with water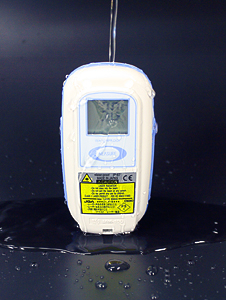 Water and dustproof construction (IP67) allows washing with water.
The thermometer body uses antibacterial plastics and keep the thermometer sanitarily clean.
Fast response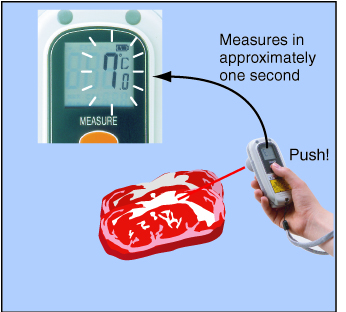 Temperature can be measured approximately 1 second after pressing the measurement button.
Compact size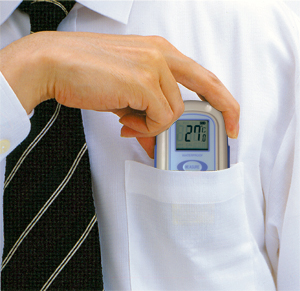 Pocket fitting size and easily portable
A wide range of applications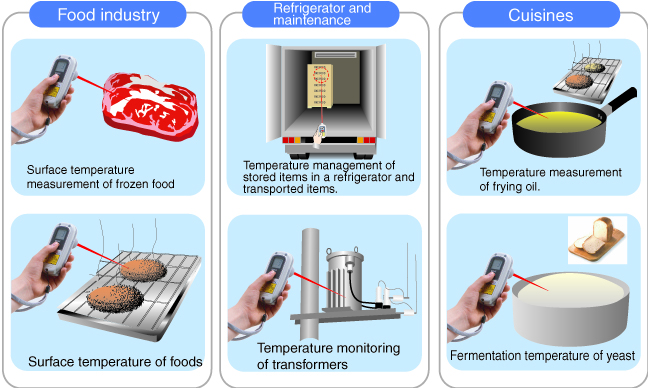 Capable of measuring the out-of-reach object or the objects that need to be untouched because of sanitary reasons.
Main specification
Measurement accuracy: -40 to +300°C
Accuracy (when ambient temperature is 25±2°C and emissivity is 1)
0 to 300°C: ±(1%+1digit) of measured value or ±(2°C +1 digit), whichever is larger.
-30 to 0°C: ±3°C ±1 digit, -30°C or less: ±5°C ±1 digit
Response time: 1 second (90% response)
Aiming mark: Center of the measurement range is indicated by the laser beam.
※Laser output: 650mm, 1mW or less, JIS class 2
Emissivity setting: 0.8 to 1.0 (at 0.05 steps, switchable with the internal switch) ※ Default: 0.95
<General Specification>
Power supply: 2 pieces of size AAA batteries (Battery life: about 10 hours of continuous operation)
Operating ambient temperature: 0 to 50°C
Weight: Approx.123g (including batteries)
Safety standards: PS/C mark – Consumer products safety law (for Portable laser application equipment)
CE Marking – EMI EN61326 Class B, EMS EN61326 Annex C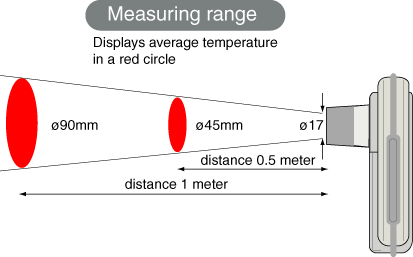 External dimensions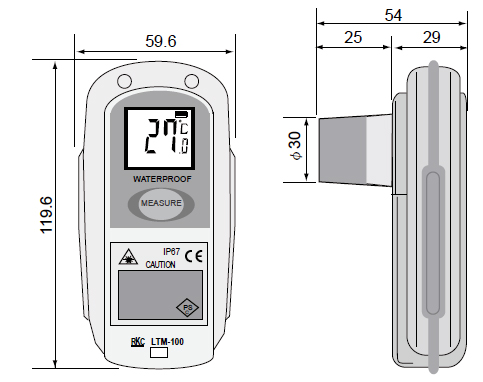 Models