Products
Recorders
Paperless recorder
VGR-B100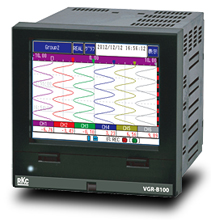 Touch screen operation
Max.12 points (in the recorder) and additional 36 points of inputs (external devices connected via Modbus Master), total 48 inputs
Ethernet is supplied as standard
Extended security (21 CFR Part 11, Optional)

Download
Main features

Main specification

External dimensions

Models
Main features
Intuitive operation by touch screen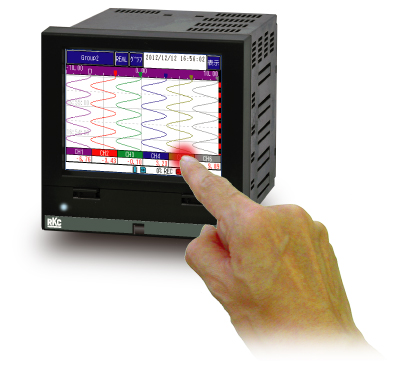 The use of 5.7-inch touch screen LCD display achieves intuitive operation Intuitive operation is achieved.
Recording starts immediately after pressing the REC button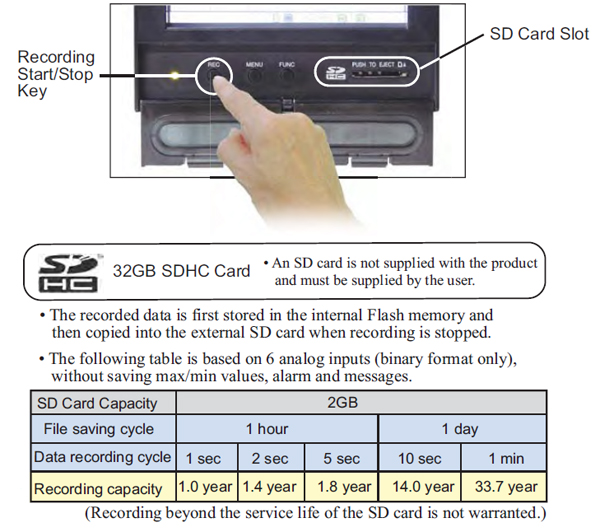 Pressing the REC button starts recording.
Data is stored into the SD card. With the supplied software, the recorded data can be easily viewed and managed.
Various input methods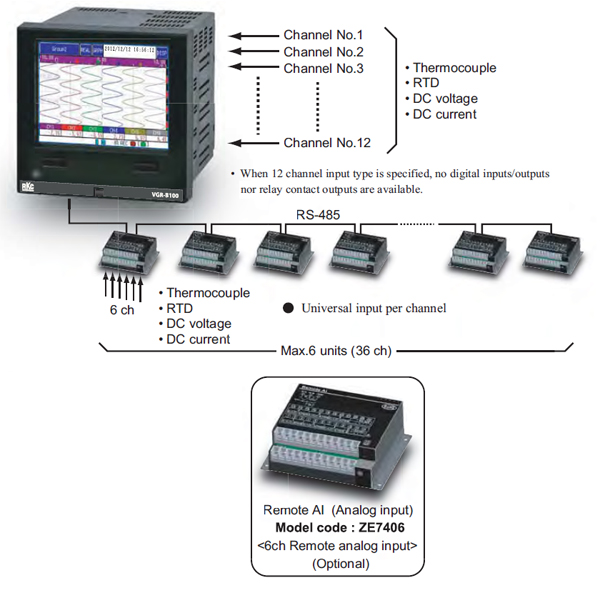 Via an external remote AI device (optional) and MODBUS master function, external controllers can be connected to the recorder, enabling a maximum of 48 channel recording.
Extended Security Function: conforming to FDA 21 CFR Part 11 (optional)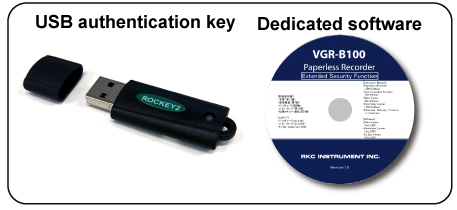 Access limit: Only users whose account is registered can operate the recorder with this option.
 
Audit trail: Operation history such as change of set values, recording start/stop and so on is automatically recorded.
 
Electronic signature, Signature data output:  Both trend and instantaneous values with electronic signature data can be printed out.
 
Data falsification and damage are detected:  Viewing detected data will be limited.
Main specification
Input: Thermocouple, RTD, DC voltage, DC current (A shunt resistor is necessary)
Number of Inputs: 3, 6, 12 points (Inputs are isolated)
Measurement cycle: 100 msec.
F-value calculation function: F-value (number of minutes required to kill microorganisms by heating) of each channel is calculated from the measured temperature.
※The calculation can be set and viewed by the supplied software.
Measurement accuracy: See list of measurement accuracy.
Display unit: Touch screen type, 5.7 inch TFT color LCD (320×240 dots)
External storage media: SD memory card, SD card specification: Max. 2GB,SDHC specification: Max. 32GB
Data recording cycle: 1 sec. to 60 min. *100ms is selectable only for sub recording.
File storage cycle: 1 hour to 1 year
Alarm function: Up to 4 points per channel
Alarm type: High limit, low limit, and abnormal data
Alarm output: Overall output, 1 point (open collector output)
Ethernet(10BSE-T): Protocol, Modbus/TCP * HTTP server, FTP server
<Specification of Options>
Communication interface: RS-485, Modbus RTU
Digital inputs (9 points): Dry contact input
Digital outputs (12 points): Open collector output
Relay contact output (6 points): Relay contact output
<General specification>
Power supply voltage (Rating): 100 to 240V AC
Ambient temperature: 0 to 50°C
Weight: Approx.1.0 kg (3-channel input type, without options)
Safety standards:CE Marking: Low Voltage Directive (LVD) EN61010-1
EMC Directive EN61326-1
External dimensions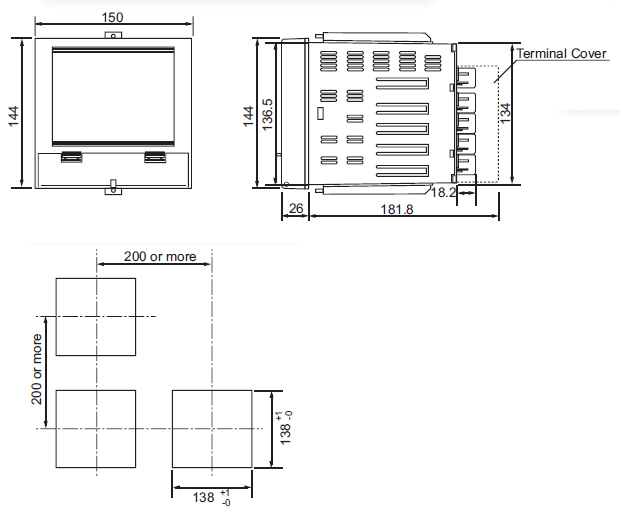 Models