Products
Digital Controllers
Digital Controllers (Process and Temperature Controllers)
FB series(FB100 / FB400 / FB900)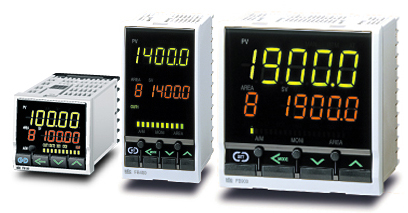 Measurement accuracy: ±0.1% of displayed value
Sampling time: 0.1 sec.
Abundant event inputs/outputs
Loader communication
Intercontroller Communication
Plug-in construction

Download
Main features

Main specification

External dimensions

Models
Main features
Abundant Inputs/Outputs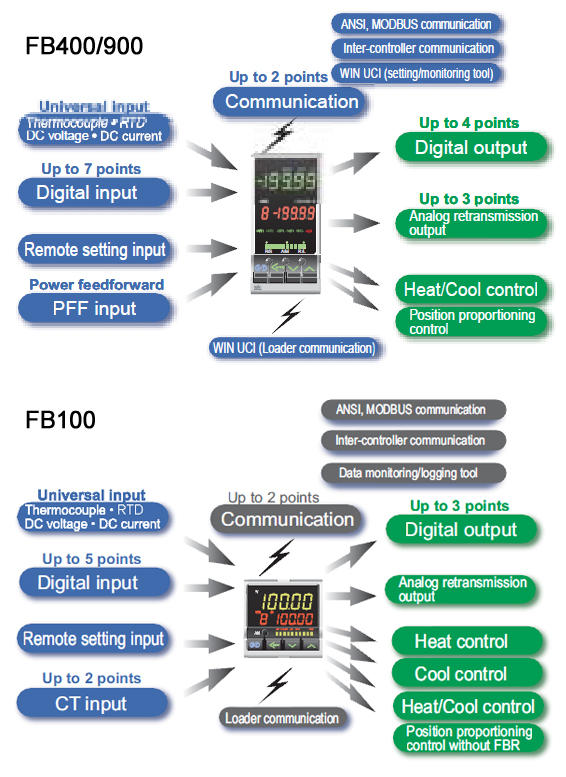 Varieties of combinations of various optional inputs/outputs
Link operation through communication

Various types of link operation are available through intercontroller communication.
・Automatic temperature rise group with learning function
・Temperature ratio setting
・Cascade control
・Group RUN/STOP function
Selectable from two types of PID control; "Response focused" and "Follow-up focused"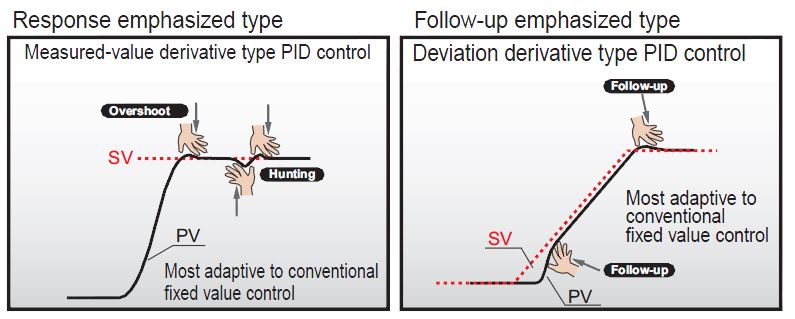 PV-derivative PID control (Response focused) and deviation derivative PID control (Follow-up focused)
Enhanced new heat/cool PID control with enhanced undershoot suppression (USS) on the cooling side.

Undershoot Suppression Function (USS) is installed in the cooling control.
※USS:Undershoot Suppression Dedicated control algorithm for water-cooling or air-cooling is selectable.
Loader communication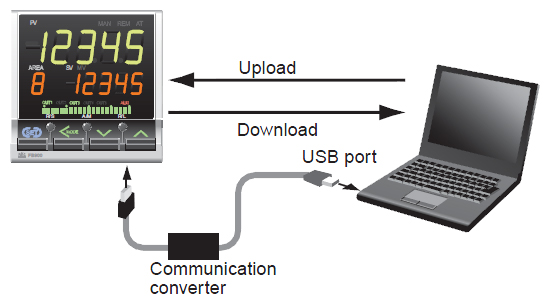 All models are equipped with loader communication function.
Configuration data management software (PROTEM2) is available
Main specification
Number of Inputs : 1 point
Input type (Universal input) : ※See the Input Range Code for the input range.
1) Temperature, DC current, DC voltage (low) input group
Thermocouple: K, J, R, S, B, E, N, T, W5Re/W26Re, PLII, U, L
RTD: Pt100 or JPt100
DC voltage (low): 0 to 10mVdc, -10 to +10mVdc, 0 to 100mVdc, -100 to 100mVdc, 0 to 1Vdc
DC current input group: 0 to 20mAdc, 4 to 20mAdc
2) DC voltage input (high) group:-1 to 1Vdc, 0 to 5Vdc, 1 to 5Vdc, 0 to 10Vdc
Sampling time: 0.1 sec. ※Also switchable to 0.05 sec. and 0.25 sec.
Measurement accuracy : ±(0.1% of displayed value+1 digit) ※Depends on the input and the range.
Output 1 (OUT1)
1) Relay contact output : 1a contact
2) Voltage pulse output for SSR driving: 0/12Vdc
3) DC Current output : 0 to 20mA, 4 to 20mA
4) DC voltage output: 0 to 5V, 1 to 5V, 0 to10V
5) SSR (Triac) output : Current rating: 0.5A
6) Open collector output: Sink type
<Specification of Options>
Output 2 (OUT2) ※ Control, Event, HBA, and FAIL can be assigned to output
1) Relay contact output : 1a contact
2) Voltage pulse output for SSR driving: 0/12Vdc
3) DC Current output : 0 to 20mA, 4 to 20mA
4) DC voltage output: 0 to 5V, 1 to 5V, 0 to10V
5) SSR (Triac) output : Current rating: 0.5A
6) Open collector output: Sink type
Digital outputs 1 to 4 (DO1 to 4)※Digital outputs 1 to 2 (DO1 to 2) for FB100
※Event, HBA, and FAIL can be assigned to output.
Relay contact output: 1a contact
Event function (Max.4 points): Temperature alarm, Control loop break alarm (LBA)
CT input for Heater break alarm (Max.2 points)
Analog retransmission output (Max. 1 point): 0 to 20mA, 4 to 20mA, 0 to 1V, 0 to 5V, 0 to 10V, 1 to 5Vdc
Digital inputs: (Max.7 points) ※Function is selectable from the Event input logic selection table
Communication interface: RS-485 / RS-422A / RS-232C ※RS-485 only for FB100
Power feedforward input: ※Available except FB100
Feedback resistance (FBR) input: 100 to 10kΩ (135Ω as standard)
<General Specification>
Power supply voltage (Rating): 100 to 240Vac/24Vac/24Vdc
Ambient temperature: -10 to 50°C
Weight:
FB100 Approx.150g
FB400 Approx.230g
FB900 Approx.290g
Safety standards: UL UL61010-1
cUL CAN/CSA-22.2 NO.61010-1
CE Marking:  Low Voltage Directive (LVD) EN61010-1
EMC Directive EN61326-1
RCM EN55011
Models
FB100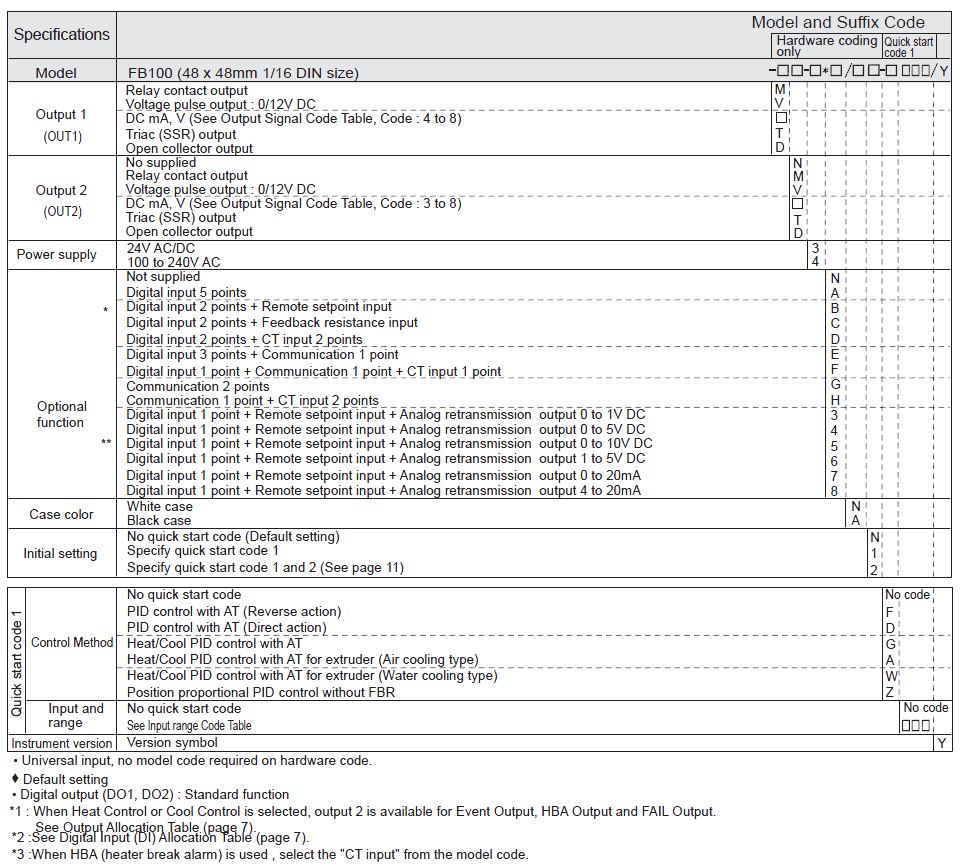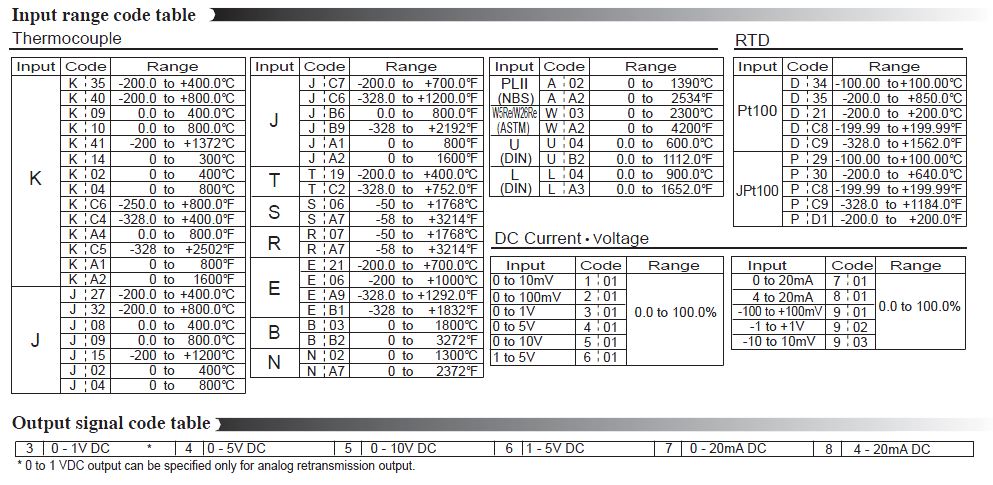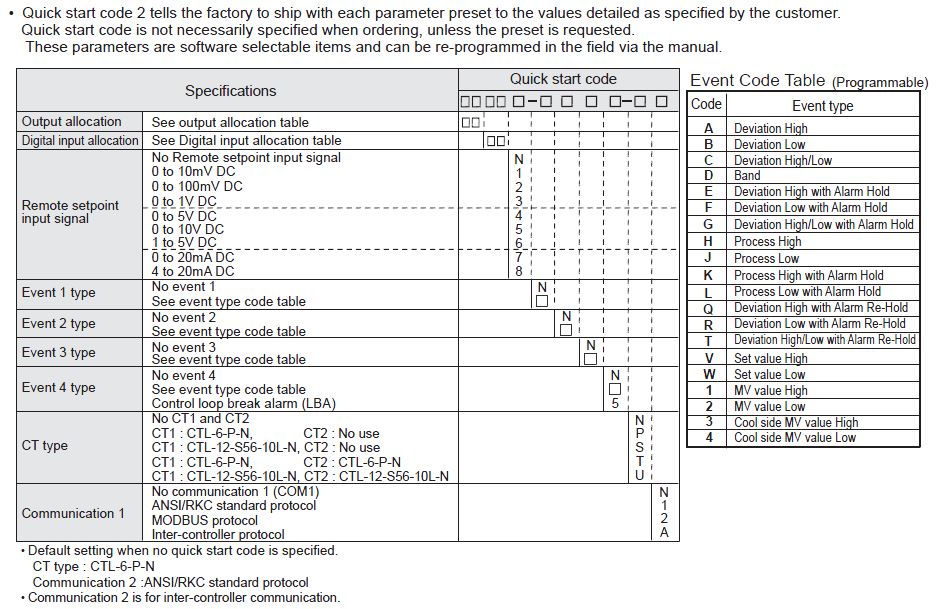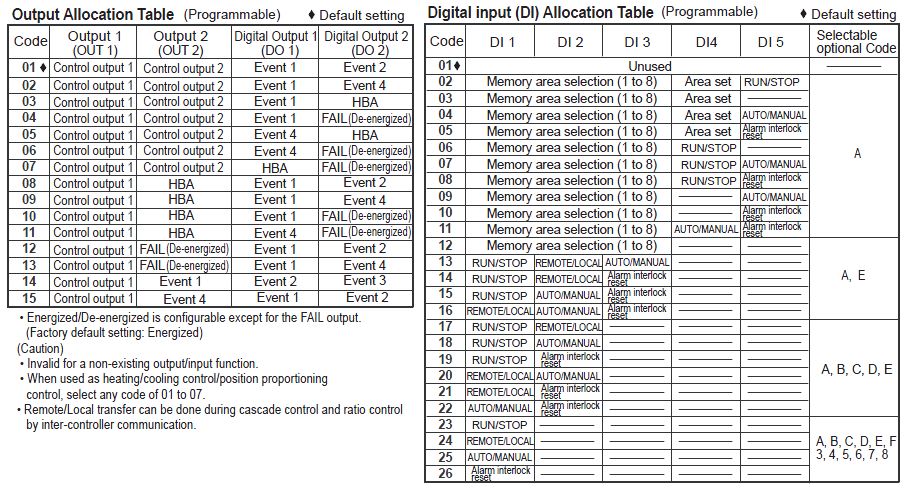 FB400 / FB900