Products
Ramp / Soak Controllers
Program Controller (Temperature Controller)
REX-P24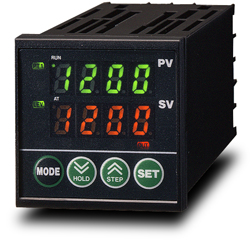 Measurement accuracy: ±0.3% of span
Sampling time: 0.5 sec.
2 patterns by 8 segments (Max. 16 segments using pattern link function)
Plug-in construction

Download
Main features

Main specification

External dimensions

Models
Main features
Three types of temperature control modes are available in one 48mm square sized instrument; Program control, timer, fixed setpoint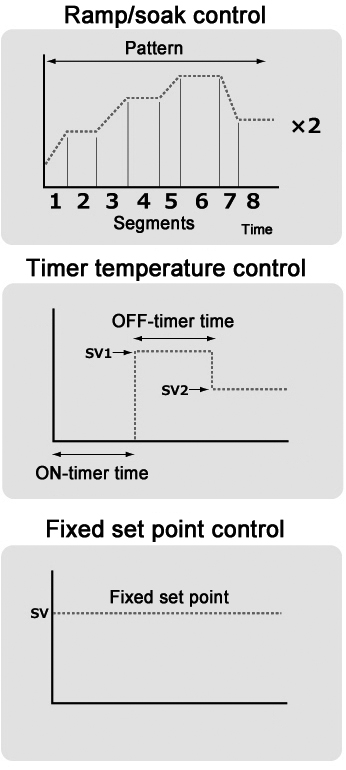 Depending on the controlled object, one from the above three types can be selected and used. Operation may be simplified, depending on the application.
• Program control mode
• Temperature control mode by timer
• Fixed set point control mode
Abundant external inputs/output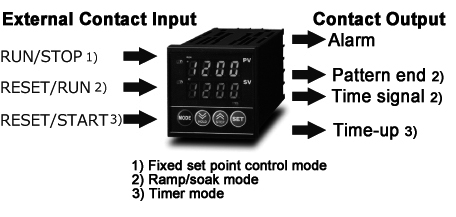 Use of abundant external input/output function enables linkage with external devices.
*Digital input function such as external contact input. Digital output function such as time signal output, time-up output (in timer control mode).
Main specification
Number of Inputs: 1 point
Input type: ※See the Input Range Code for the input range.
1) Thermocouple: K, J, T, S, R, E, B, N, W5Re/W26Re, U, L, PLII
2) RTD: Pt100 or JPt100
Sampling time: 0.5 sec.
Measurement accuracy:±(0.3% of displayed value+1 digit) ※Depends on the input and the range.
Program control function
1) Patterns: Max.8 segments per pattern, max. 2 patterns (Patterns are linkable)
2) Segment time: 00 hour 00 min. to 99 hours 59 min. per segment.
Timer function
1) Timer type: ON-Timer, OFF-Timer, ON/OFF-Timer
2) Timer period: 00 hour 00 min. to 99 hours 59 min. (Independently settable for ON and ON/OFF timers)
Output
1) Relay contact output: Form 1a contact
2) Voltage pulse output for SSR driving: 0/12V dc
3) DC Current output: 0 to 20mA, 4 to 20mA
<Specification of Options>
External contact output (2 points): Temperature alarm output, Pattern end output (Program control mode), Time signal output (in Program control mode), End-of-time output (in Timer control mode)
External contact input (1 point): in Fixed set point control mode (STOP/START), in Program control mode (RESET/RUN), and in Timer mode(RESET/START)
<General Specification>
Power supply voltage (Rating): 100 to 240V ac
Ambient temperature: 0 to 50°C
Weight: Approx.180g
Safety standards:UL UL61010-1
cUL CAN/CSA-22.2 NO.61010-1
CE Marking: Low Voltage Directive (LVD) EN61010-1
EMC Directive EN61326-1
External dimensions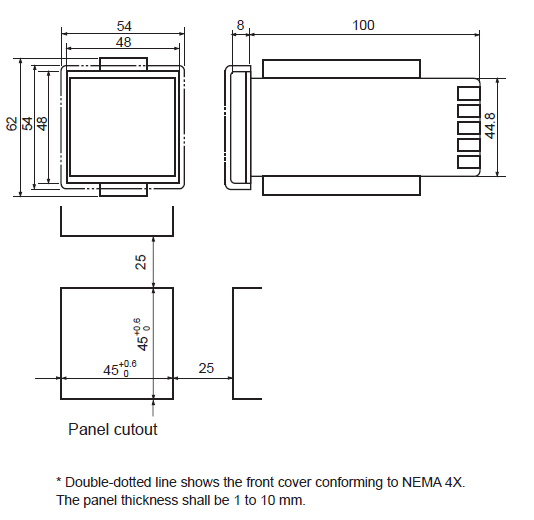 Models